Tony Smith
Pace Gallery – Until Jul 16, 2022 Los Angeles (US)
Pace is pleased to present an exhibition of works by American sculptor Tony Smith. He imbued minimalist structures with spiritual import, in his new West Coast flagship in Los Angeles.
Marking the gallery's second showing in its recently opened space, the exhibition brings together sculptures and paintings created over two decades. Focusing on the organic forms that make up much of Smith's work.
Architect.
Although he became widely known for his sculptures, Smith began his career as an architect, working with Frank Lloyd Wright on Usonian houses. Then, other projects in the late 1930s and early 1940s. The artist worked as a freelance architectural designer before developing his prolific sculptural practice in the mid and late 1950s.
Geometric abstractions.
Smith often drew inspiration for his dynamic geometric abstractions from phenomena in the natural world. Through his works, Smith investigated the formal possibilities of crystal structures, including octahedra and tetrahedra. Embracing the imaginative effects of chance and chaos, the artist produced sculptures that forged a new language of abstraction amid the rise of minimalism. Deeply engaged in architecture, science, mathematics and philosophy. Smith's works offer new ways of understanding and experiencing their environment. "I think of art as something vast," Smith said in a 1966 interview with Artforum, adding, "I'm interested in the inscrutability and the mystery of the thing." Pace Gallery has had a long relationship with Smith over his lifetime, and he began representing the Tony Smith Estate in 2017.
Hawaii in the summer of 1969.
At the Pace Gallery in Los Angeles, whose architecture features a unique integration of natural light and indoor-outdoor space, Smith's sculptures will take on new associations and meanings. The exhibition will feature small and large-scale works, including four sculptures from the artist's For series. Smith began working on the series while teaching at the University of Hawaii in the summer of 1969. He dedicated the nine welded bronze and black patina sculptures in this body of work to nine friends, including several were his colleagues in Hawaii. The titles of these works incorporate the initials of the people whose names they bear.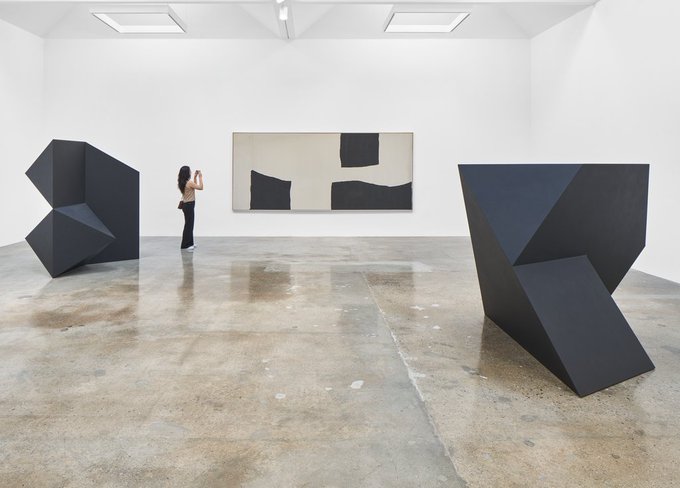 Pace →  1201 S La Brea Avenue Los Angeles, CA, USA 90019
◊
Use our Art Geolocation App